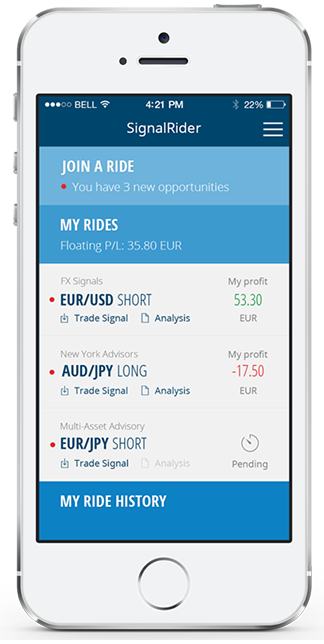 Meet SignalRider: the first content driven mobile trading platform with a sales management Dashboard for brokerages.
We believe trading is exciting because of the decisions being made.
The Ride is a process oriented frame of trading and investment decisions within the app. Opportunities, positions, analyses and evaluation – this is what a Ride is about.
More on The App »
Video »
The SignalRider solution helps Brokers to thrive in a content-driven environment: expand the market and win new customer segments through content and partnering capabilities.
We help brokerages to engage with their clients and prospects more efficiently.
Establish a meaningful conversation with clients and demo prospects
Keep live clients active and engaged
Partner up with IBs and Signal Providers
Our mission: We want to make investment decisions simple and financial markets understandable.

Our SignalRider solution provides a customer experience focused solution for brokers and digital content providers to elevate their business in the value chain, expand their reach to new market segments and enrich their client service. BLL's content supported semi-active concept is an integral part of our partner's acquisition method and mobile presence.